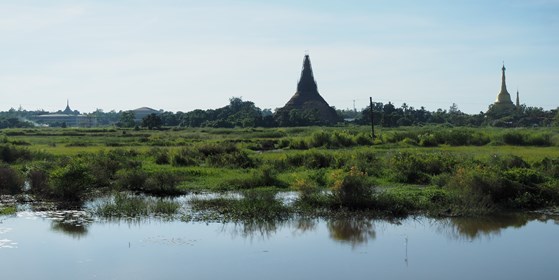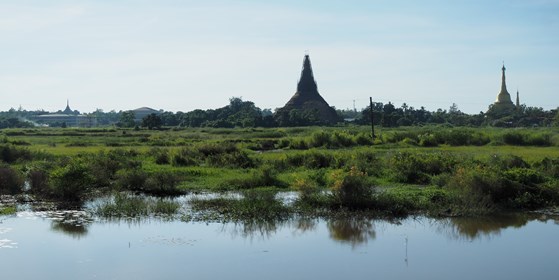 PhD-student Liv Stoltze Gaborit writes from Myanmar, where she is currently researching experiences of imprisonment through interviews with ex-detainees.
By Liv Stoltze Gaborit.
Photo: Liv Stoltze Gaborit, all rights reserved.
When I first moved to Yangon this October I started a three weeks' intensive language course. Before noon I went to language class, after noon I met with stakeholders in the project, by evening I passed out, my head feeling like it was going to explode from all the new things I had to learn.
I finished the language class and the day after I passed the exam I flew to Kachin in northern Myanmar, where ethnic armed groups are still present and in conflict with the Burmese army. Up there it was not well seen that I tried to use my Burmese, since some saw it as the language of the state they are fighting, so I was back to struggling to learn to say hello and thank you in yet another language and otherwise getting by with interpreter and English.
I am now back in Yangon, trying with a private tutor to fully grasp the Burmese language. New tutor means a new way to spell most words, since the real spelling is in their own alphabet and there is no standardized Romanization. Language is a struggle, but I see progress and hope that after this course I will be able to have actual conversations and follow at least part of the answers in my interviews.
The resilience of detainees
It is fascinating to hear about the different ways that people survive inside prisons, and see the variety of feelings in our conversations about prisons. One moment we can be talking about the humiliation of living in a cell with no toilet where you would be sleeping in your own excrement, humiliated and plagued by skin diseases and maggots, the next their face light up as they tell me how they were still able to resist this system in some small way.
One former prisoner told me how he and his cell mates built an oven out of metal plates and burned plastic from their trash to light it. The smoke of burned plastic didn't alarm the guards either (my guess is I have to prepare myself for some pretty smelly prisons if I gain access to the prisons). When they were done using the oven they had to dig a hole in the cell floor and hide it – they were happy they had a cell with plain dirt floor, not cement like some of the other cells.
Another striking moment was less happy. During an interview, the woman I was talking with began to tear up. The interview was conducted through interpreter, and until then she had faced him when she spoke and me when she listened to me or him. All of a sudden she turned her face at me and said the simple sentence "I remember" and then she began to cry. She was still feeling guilty because her friend had been imprisoned based on some of the evidence the police found when they searched her room. After the friend was imprisoned they shared a cell, and every time she saw her friend struggling or heard of her friends' family struggling to get by outside, she felt it was her fault.
Death penalty at the age of 16
One of the men I talked to had been sentenced to death for high treason when he was only 16 years old because he was part of the student groups against the military regime back in '88. After one year and nine months his sentence was changed to 20 years of imprisonment, because it was illegal to give the death penalty to someone so young. He was released after 18 years – so at release he had spent more than half of his life in prison. Still, he had managed to get married and find a good job and accomplish a lot in his career and in his continued political effort. He told me that he was one of the lucky ones – because he had now reached a stage where he could try to be happy, most people in similar situations couldn't.
These are the personal experiences that make up the history of Myanmar. I am truly thankful to the people who share such painful stories with me and join me in the effort to get a deeper understanding of what has happened and is happening in Myanmar prisons.